The
teenager
was not around so Ryan and I had all of Saturday to ourselves and we took full advantage of it! We both agreed that we didn't want to do "house stuff", especially after all the
painting and yard work
from the past few weeks after dropping the teenager where he needed to be, we came home and
celebrated
embraced the moment. At 11:00 in the morning. No judging allowed.
This bottle of whiskey was my grandfathers and has aged for well over 50 years. There is not much left in the bottle so its tiny sips only and for rare occasions. I'm not a whiskey drinker but even I can appreciate how smooth this one tastes.
While we were getting ready for the day and still debating about what to do, Ryan had a complete girl moment and proclaimed that he had nothing to wear despite looking at a closet full of clothes. We made a stop at the outlets near our house to see if we could find something for him before we headed out to
Doherty's
in Pawtucket, RI for an impromptu Saturday lunch date.
Aaaah, Doherty's. Best decision we made. We thought about going to a J
ack's Abbey Brewing
for a tour and tasting but the times available weren't really working into our schedules.
In addition to their lunch and dinner options on the menu, they boast a selection of
84 beers
on draft. I ordered a flight of six different 5oz. samples.
P.S. First time using instagram and PicMonkey. I feel so technologically advanced!
Starting from the top left and working clockwise: Chocolate Covered Raspberry, Southern Tier Plum Noir, Atwater Summertime, Sierra Nevada Ovila Saison, Weyerbacher Merry Monks, and Angie-er Pumpkin.
My thoughts (and a few of Ryan's).....
#1. The Chocolate Covered Raspberry was made up of
Lindeman's Framboise
and
Young's Double Chocolate
.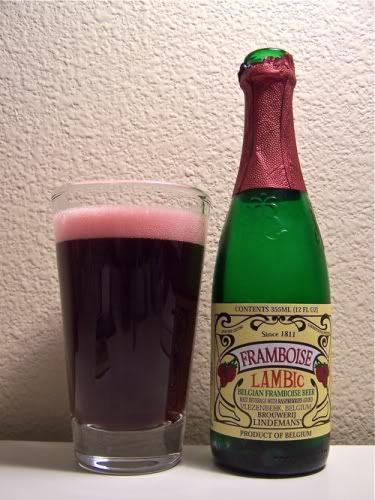 I have had this combination before and still loved it. I think the 5 oz sample size is perfect amount. It reminds me of a very decadent dessert but Ryan still isn't a huge fan.
My verdict: Delicious but best saved for sample sizes only.
Ryan's verdict: Not for him.
#2.
Southern Tier Plum Noir
: This is an imperial porter brewed with Italian plums and is quite strong at 8% ABV. I typically prefer porters, especially in the fall and winter months, so that's how I ended up choosing this beer.
Ryan and both commented how we could taste the hints of plum. It reminded me a lot of a dry red wine and my first thought was that this would be a good beer to try for wine drinker.
My verdict: I would get this again, especially in the Fall or Winter
Ryan's verdict: "I like it."
#3.
Atwater Summer Time Ale
: The Summer Time Ale has a 5.0% ABV. It is
described
as "a study in refreshing crispiness. Vienna malt brings a distinct snap to the finish with dark wheat flavors lightly present. The hot wort is briefly exposed to ground lemon peel and grains of paradise which provide a tidy lemon citrus finish."
This was my least favorite of the bunch. It just didn't do anything for me. While Ryan described it as "drinkable", I agreed and felt it was nothing memorable. Not bad, just nothing worth writing home about.
My verdict: It wasn't bad at all-I just wouldn't bother with this again
Ryan's verdict: "Drinkable"
I'll admit that the name and description is what peaked my interest on this one. I found it very hoppy and bitter and almost too hard to drink. (I also don't care for hoppy beers). Ryan liked it a lot though and finished it for me. I wouldn't order this again but I am sure that IPA drinkers who enjoy the bitter hoppy flavors would appreciate this one.
My verdict: Not for me
#5
Weyerbacher Merry Monks
: Merry Monks is a traditional Belgian-style Tripel.
Described
as having "complex flavor packed with notes of spice, banana, and pear", this clocks in at 9.3% ABV.
Photo Credit
This was Ryan's selection when I asked him to choose a beer for me. He didn't think I was going to like it at all but I actually enjoyed this for what it is. It isn't really my preferred style of beer but it was delicious and I would recommend it to someone who enjoys Belgian styles.
My verdict: I wouldn't be opposed to drinking this again
I was skeptical of this combination at first, but since I have been on such a cider kick this summer, I figured it was worth trying. It absolutely was. It turned out to be my favorite of the six. I even re-created my own variation later that night using Angry Orchid Crisp Apple and
Harpoon's UFO Pumpkin
.
After our lunch date was over, we came home, napped (I may have been a tad bit tipsy), and then went on our separate ways. Ryan went out to one of his friends' birthday's while I went to my friend, Leah's, house for a
girls night
, complete with delicious food and drinks, sweatpants and comfy clothes, inappropriate jokes, and so much laughter my stomach muscles were sore the next day. I cannot possibly say enough or even have the right words to express
how much I love my girls
. I think it is so important for girls to have their group of girlfriends that will grow with them for life. I truly have some of the best!

Question for you:
What is your favorite beer?
Tell me about your favorite part of the weekend!